Pet Friendly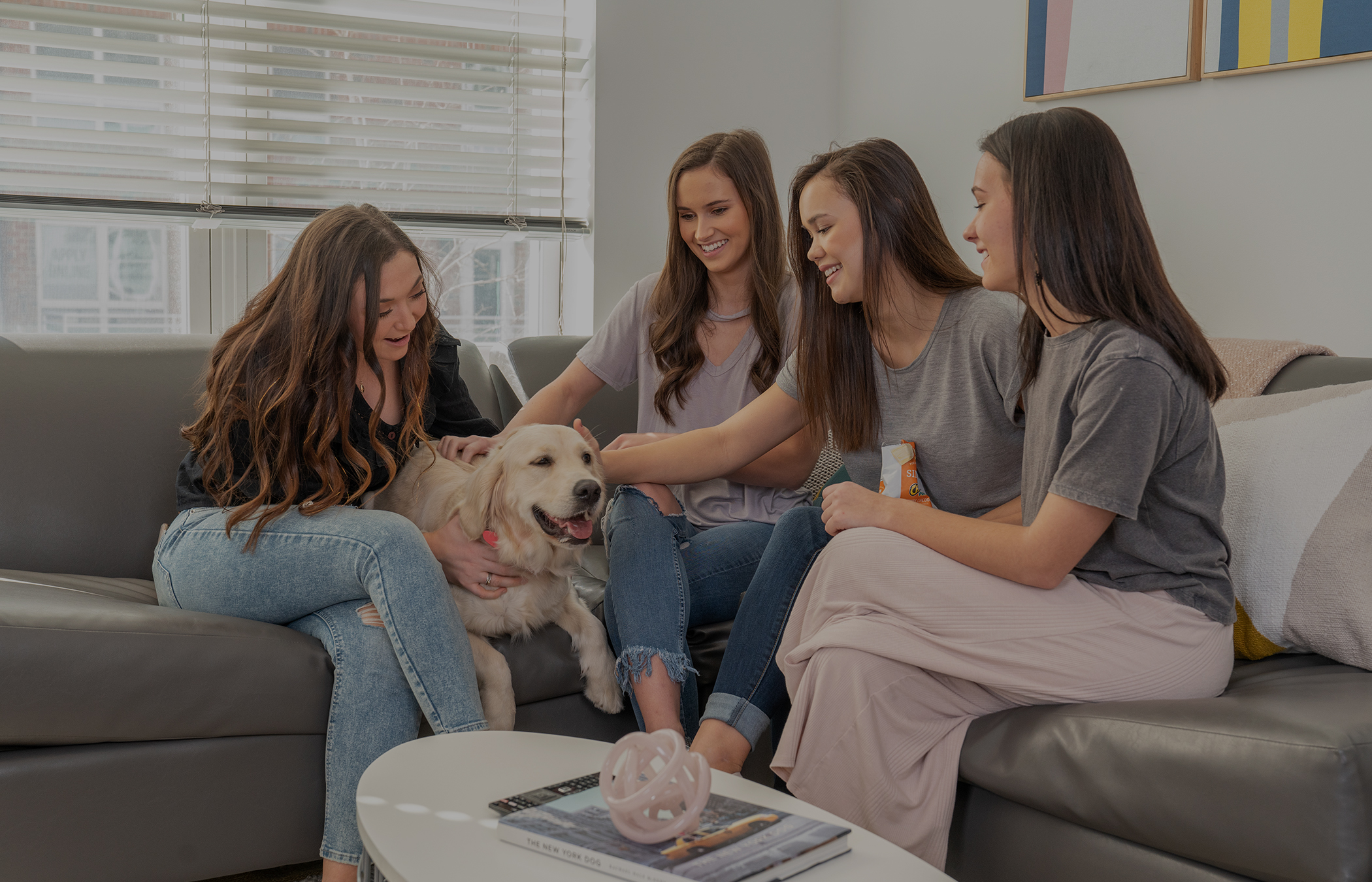 Stanhope: Pet-Friendly Apartments for Students in Raleigh
Who says you can't have a pet in student housing? At Stanhope, you are free to have your furry best friend live with you while you're hitting the books. It's just another way that Stanhope student apartments beat on-campus living.
If you just can't leave your pet behind at home another year, Stanhope offers a great pet-friendly student housing option.
---
Student Apartments with a Dog Park
At Stanhope, we've created the perfect atmosphere for today's college student. That includes accommodations and amenities for your personal mascot – your pet. We even have a convenient, fenced-in, and gated area where you can come and take your dog for a walk during your study breaks.
Want to live with like-minded animal-lovers? No problem. College is all about finding your group. Because leasing is handled on an individual basis, everyone in your suite can have a pet.
---
Pet Amenities Near Stanhope
Your family may not be here to help, but that doesn't mean that you don't have the right resources to take good care of your furry companion. There are a number of stores, services, and parks nearby that can help provide everything your four-legged best friend needs.
It's important that your pets get exercise, especially if they've been cooped up in your room during finals week. There are three dog parks, all within five miles from your front door to help you accomplish that goal. Take the leash off at Carolina Pines Dog Park, Oakwood Dog Park, or the Dog Park at Dix Park and let your pooch burn off all that extra energy.
Short on treats, pet shampoo, or other crucial pet supplies? Stock up at Woof Gang Bakery & Grooming, Pet Wants, or Baron's Natchels – all less than a 10-minute car ride away.
Need to take your pet for a check-up or a vaccine update? There are several veterinarians and animal hospitals near campus.
FREQUENTLY ASKED QUESTIONS
What types of pets are allowed at Stanhope?
Bring your cat or your dog. If you have a more exotic house pet, call our leasing office for consideration.
Are there any restrictions on size, weight, or types of breeds?
There are no size or weight limits. However, in consideration of the safety and comfort of your fellow residents, only non-aggressive canine breeds are allowed to live with you at Stanhope.
Does my pet have to pay rent?
Your pet doesn't, but you do – there's a $25 add-on to your monthly rent for your pet. You'll also need to provide a non-refundable $350 pet fee.